The Foo's 20th Anniversary Blowout - an interview with Kristin
Kristin is snarky and funny with a New Jersey attitude - and she's also a sweet person and really kind to her friends. She's (self-proclaimed) obsessed with Dave Grohl and the Foo Fighters. The Foo held a 20th Anniversary concert at RFK stadium on the 4th of July with an amazing line up of artists. Kristin had VIP tickets, spent most of the day with musicians and celebrities, and had the time of her life. She had a heavy heart though, as one of her friends had just lost a battle to cancer. The concert, and the day, was Kristin's chance to pay tribute to her friend Diane, who was a true Rock 'n Roll woman.
I don't know why I love music - I'm just one of those people that love music. There's some people that don't get it and that's okay. It's always been in me. I've always loved music. I constantly listen to it. I'm a music junkie. Or better yet, I'm a Foo Fighters junkie that loves other music as well.
The Foo Fighters, yes, I am obsessed. I love Grohl. I fell in love with Nirvana in the 90s and have liked him since then. I have a lot of appreciation for him as a musician - he's an extremely talented musician. He plays everything. I can play the piano and that's about it. I took 15 years of classical piano lessons. I play - not as much as I should. My son plays by ear. He has perfect pitch. I'm not sure if he'll pursue more music - he just does it for fun right now; his obsession right now is actually karate.
My kids don't love rock . My son loves 80s music - probably because of me. But no, my kids don't love Dave and the Foo. It's really hard to be in the car with those children. They're like 'Ma, turn it down it's too loud'.
I've seen Foo Fighters before; the last time I saw them was at the Verizon Center. They were fantastic. They're just a good band. It's all Rock 'n Roll - you don't get that much anymore these days. Nowadays it's all auto-tuned stuff. I fell in love with Rock 'n Roll when I fell in love with Van Halen. I was 8 years old and by the way, I'm going to see them for the 12th time next month. I don't know what it was about the music - I heard them on the radio. I think it was 'Eruption' and I just thought it was such a good song so I started buying their cassettes. My mother used to love them. We'd listen to them in the car and road trips. That was my first true-love for a band.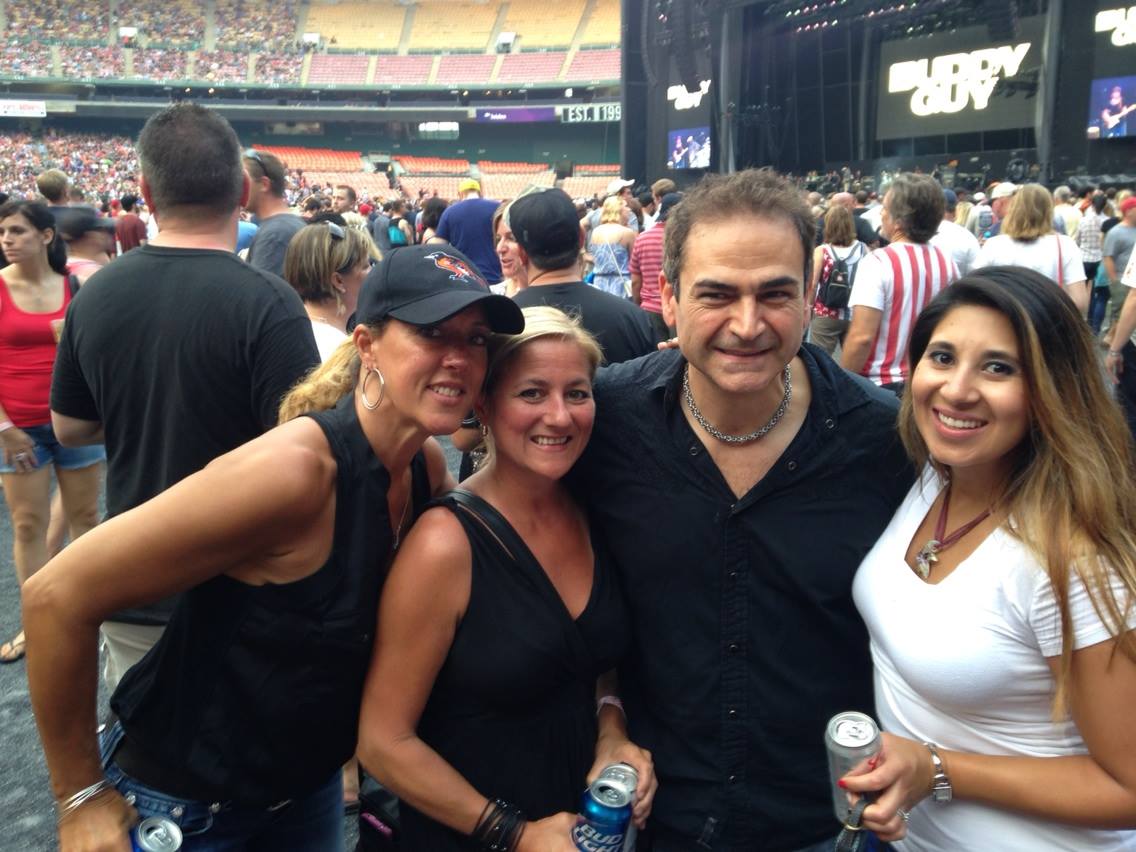 For the Foo Fighters concert on the 4th of July at RFK, I had VIP passes but mostly stayed up front and center. A few of my friends were in VIP, but they actually came on the other side of the fence to be with us - close to the stage. It was an absolutely incredible show and a lot of the bands before Foo Fighters were really good too. I loved RDGLDGRN - they're really talented. The day before the show, they put up the setlist so I googled them, and I was like 'Holy crap - they're really good'. We spoke to Roi - one of the band members - for quite a bit. He was really humble and really sweet. He kept saying 'I can't believe I'm here'. I loved how humble he was - you could tell how grateful he was for the opportunity to play with the Foo.
I also had the pleasure of meeting one of Dave Grohl's family members. She didn't want any pictures posted to the internet - she was so down to earth. I have that picture to go with my memories - but I want to honor her wishes and won't share it publicly. She was great to talk to - I spoke with her for half an hour!
My friend, Diane, came with me to the show...in spirit.
She was such a rocker chick. She went to every show. She had tickets to a Foo show playing near where she lived. She bought tix in November, but then her cancer came back. She was fighting, fighting, fighting, and she just didn't make it.
She died the Tuesday before the show. Her husband asked me to carry her in my thoughts to the show - she loved the Foo. I did one better - I took her picture - and spirit - with me.
She should've been there - she should've been there. She fought for so long, and she just didn't make it...it's been hard to lose her, but I feel better knowing that she's somewhere and she's probably still rockin'.
Fuck Cancer.
In memory of Diane and the many other women who have lost their battle to breast cancer, if you wish you can send donations to Diane's charity of choice: Metastatic Breast Cancer Network.